What Races Are In The Triple Crown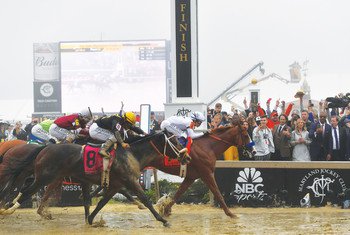 For individuals who are less knowledgeable about horse racing, all horse racing events may seem exactly the same with no distinction. However, that is far from the truth as horse racing also has different types of derby or races and even these races combined, form some of the most anticipated and phenomenal racing events one of which is the Triple Crown. What races are in the Triple Crown? This question is probably what pops into your mind when you first hear about the Triple Crown and fortunately, Always Walkin is here to give you a heads up about it.
Before going through what races are in the Triple Crown, it is empirical that you must know first what it really is. Triple Crown, is the shortened term for the Triple Crown Thoroughbred Racing. Though there are many cases where the Thoroughbred is more often than not, used to describe horses with pure breeds, Thoroughbred is actually a breed of its own that's different from other pure breeds. This type of horse is what vies for glory in the unique and legendary track of the Triple Crown.
In the Triple Crown, there are three races in the horse racing calendar - the Kentucky Derby, Preakness Stakes and the Belmont Stakes. These three are what composts the Triple Crown in the United States and they differ distance and of course, the race course or the place where the race was held. When it comes to Thoroughbred racing, those who are able to snatch the glory in all three races is said to have achieved the most glorious accomplishment possible in this breed racing.
The Kentucky Derby is one of the most famous derbies in the world, which is executed at the Louisville Kentucky at the Churchill Downs. The course runs at over 1 and 1/4 miles or over 2 kilometers. Next is the Preakness Stakes that's a bit shorter than the Kentucky derby with over 1.9 kilometers of distance which is held at the track located in Baltimore Maryland, at Pilmico Race course. Finally, the Belmont Stakes is held at Belmont Park New York which also holds the longest race course in the Triple Crown with 2.4 Kilometers at its plate.
Always Walkin' Home